Swimming Pool Cleaning and Maintenance Services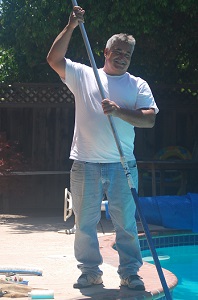 Don't you love swimming in the backyard pool to cool off on a hot day or just hanging out and relaxing?
However, to really enjoy these activities, the pool must be kept clean and healthy. That takes a lot of work. The water has to be tested and chemically treated to keep it safe and comfortable, the filter has to be cleaned, the the tile and walls have to be brushed, the leaves and debris have to be removed, all the equipment has to be maintained in good working order.
Crystal Bay Pool Service can take care of all of these tasks and you can enjoy your pool free from concern.
For a quote on services, call (209) 430-5417 or fill out a request from the Contact tab above.
We provide the following variety of pool cleaning services